Aaron, son of Manasses Hecht, a merchant (22.5.181-25.3.1911) married Karoline née Mayer (9.3.1918-8.2.1846) in Bamberg. Aaron Hecht and his son Max had a textiles shop. The shop is mentioned in an ad in the "Bote Vom Hassgau" newspaper dated 15.5.1917.
The ad says: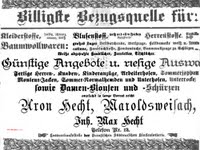 "The most reasonably priced merchandise… Fabrics of all colors, fabrics for shirts (white and all colors, silk, fabrics for men's clothes, cotton wool, a large selection and variety, eiderdown bedding Damascus fabrics (white and colored), fabrics for towels, and aprons, towels, napkins, table clothes".
The store also served as a lottery station. The telephone number of the store was 12.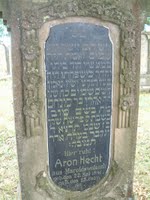 The headstones of Aaron and Caroline Hecht had been well preserved in the local cemetery. On Aaron Hecht's headstone the following message was engraved: "a upright and honest man, God fearing and truthful in his actions. The glory of his house and his family was Aaron ben Menakem. He died, in a good name on Shabbat Kodsh parashat she'kalim kaf za'yin, shvat tar'za, and was buried on the eve of Chodesh Adar, may his soul be bound up in the bonds of life (tan'tzava).
Yacov and Max Hecht have published an ad in the local newspaper "Bote von Hassgau" in 12.3.1918 and announced that the store was closed due to the mourning on the passing of Karoline Hecht. On Karoline Hecht's was engraved: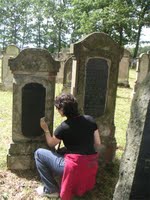 "…she worked in a bakery where mazzot were baked for Pessach (Passover). "…Woman of valor, glory to her husband and her sons, honest and upright in her ways and pleasant in all her deeds. Died of a good name on Shabbat kuf peh ha'chodesh, kaf heh Adar and was buried on a holy day kaf zayin tar'aa, May her soul be bound up in the bonds of life (tan'tzava). "Thoughtful, honest, generous, God fearing, content and happy with her life"… (In the photo: Yael Pedro Hecht, seventh generation descendant of the Hecht family. It was taken during the family heritage journey in 2004. Yael is seen cleaning the headstone of Karolina Hecht; the second headstone belongs to Aaron Hecht.
Their children: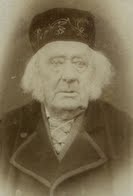 1. Yacov (Jakob) (20.8.1929-18.8.1868), merchant, married Karolina (born 9.3.1875) of the Herman family and Amalie Sachs in 27.10.1897. In the photo Herman Sachs (1.4.1843-15.9.1909) great grandfather of Yacov (Jakob) and Matanya Hecht. Herman Sachs wife, Amalie Sachs née Strauss was born in 1842, and came from the village Einwangen. She died in 9.3.1894.
2. Rika, born 13.6.1870. Married in 26.4.1892 to Siegfried Sendel Freudenberger (born in 1.12.1865) from Hassdorf. Siegfried was a teacher (Elementarlehrer) who graduated from the Jewish teacher seminary in Wurzburg (ILBA). His parents Okönom juda and Babetta Freudenberger née Goldner. The marriage was witnessed by Emmanuel Friedman (67 years old) and Julius Walss (29 years old) who lived in house number 29 in the village. Rika Freudenberger was an Auschwitz survivor and immigrated to US. She lives in New York. Allan Hecht writes about her in an email message sent on 3.12.2004:
"I just remembered that when I was a kid my father went to the Freudenberger house to blow the Shofar for Rika as she was too old to go to Schule (Synagogue)…"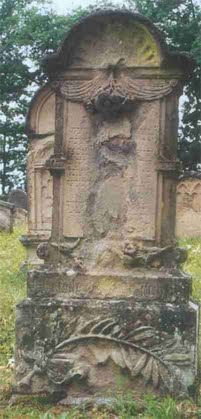 Max Hecht, Allan's father blew the Shofar for his sister Rika Freudenberger in her old age, that is to say, he continued to uphold the tradition of his father's house, Aaron, who was a messenger of the congregation, ("Shaliach Tsibur") and the Shofar blower ("Baal Tokea"), who blows the Shofar on behalf of the congregation.
Rika Freudenberger's only daughter, Mina, who was also called Molly, married Sally Stern, called Solly. No further details are available.
3. Max, born 5.9.1874 married Jenny née Goldschmidt, born in 31.3.1880 and died in the age of 45, in 25.3.1925. Max Hecht perished in Auschwitz in 15.4.1943. The following details are available in the Yad Vashem database: "Max Hecht was born in Germany…. Before the war, he lived in Maroldsweisach, Germany. Perished in Auschwitz".
4. Babetta (born 6.9.1876) married in 23.12.1901 to the furs merchant Isaak Sichel (born 16.5.1869). Isaak Sichel's father Feustel Löw Sichel' was a cattle merchant and his mother was Sofia née Helfer from Veitshöchheim. The marriage of Babetta and Isaak Sichel was witnessed by Aaron Hecht (60 years old) and the merchant Herman Sachs (50 years old). The Sichel family lived in Ichenhausen and from there moved to Munchen in 1944. From there they were sent to Tereizinstadt. Isaak Sichel perished there in 4.6.1944. Babetta survived. The Yad Vashem archives contain the following information on Isaak and Babetta;
"Isaak Sichel was born in 1869, before the Second World War he lived in Ichenhausen, Germany. He perished in Tereizinstadt in 1944."
This information is based on the list of the Jewish German dead, in the memorial book "Victims of the Jewish Extermination under the Nazi regime in Germany 1933-1945", the National German archive, Koblentz 1986. Babetta survived. The following entry is stored in the Yad Vashem database: "Babetta Sichel (born 1876), during the war she stayed in Ichenhausen, Germany and Survived the Holocaust. Was freed from Tereizinstadt, This information is based on list of prisoners Tereizinstadt concentration camp included in the memorial Tereizinstadt book initiative, volume 1-2 Prague 1995, volume 3 Prague 2000 (the central database of the names of victims of the Holocaust.
Babetta Sichel immigrated to New York with her daughter Elsie. Elsie married a cattle trader/merchant by the name of Fred Openheime. The Openheime's family had a daughter by the name of Evelyn. No further details are available.
5. Mina, born 20.9.1878, died in 15.1.1901 (23 years old). Her grave is located in the village cemetery. Her original headstone is elaborate, yet partly ruined (see photo of the headstone in the village).
6. Sara (born 2.2.1881) married in 10.10.1905 to the butcher and cattle merchant Louis Strauss, born 28.8.1874 in Willmars. Louis parents are the butcher Jeremias Strauss and Ernestina, nee Siegel Willmars. The marriage was witnessed by the merchant Max Strauss (29 years old) and the merchant Max Hecht (31 years old).