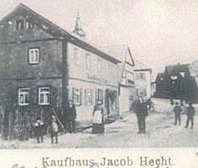 Yacov Ben-Aaron Hecht (20.8.1929-18.8.1868) died in the age of 61, married in 27.10.1897 to Karolina. The marriage was witnessed by Emanual Schloss (33 years old), a butcher who used to live in house number 28 in the village, and Emmanuel Friedman (67 years old) who lived formerly in house number 29. Yacov Hecht was the owner of a clothes shop in the village. In the photo the name of the owner is displayed on top, and the clothes are hanging from the shop's window.
In an ad in the "Bote Von Hassgau" newspaper which bears the date 23.12.1917, Yacov Hecht is looking to buy "… dried fruit for a high price. And also orange peels and pears for tea".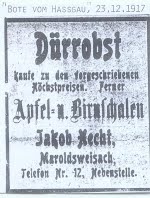 The village children called Yacov Hecht, "The Lower Hecht" ("Untere Hecht").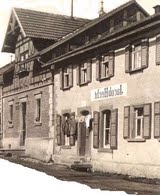 Yacov Hecht was buried in the local cemetery in 1929. The following text was engraved on his headstone: "A righteous man, an honest merchant, a devoted father, a protector and advisor. He was the crown on our heads (ateret ro'sheinu) and a decent human being (a "mentsch").
In the year 1933 Yacov Hecht's widow Karolina immigrated to Israel together with her daughter Malka, her son-in-law Moshe and her grandchildren Menakem and Eliyahu. Karolina Hecht passed away in 1951 and is buried in Haifa.
Yacov and Karolina hecht had three children: Max Ben-Jacob, Samuel (Sally) and Amalie (Malka).
1. Max Ben-Jakob Hecht (30.8.1898-28.4.1918) has fallen in battle in the First World War, on the French front. His name is engraved on a memorial monument located in the village.
2. Samuel (Sally) 20.2.1901-1974)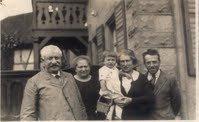 3. Amalie (Malka) (4.5.1992-18.8.1903) immigrated to Israel with her family in 1933 (in
the photo a picture of the brothers Malka and Max when they were young). Amelia (Malka) married Moshe (Moses) Blum, a resident of a neighboring village (Burgpreppach) in 23.10.1922. Their marriage was witnessed by Max Hecht (a 48 years old merchant) and Emanual Schloss (a 59 years old butcher). Moshe (Moses), Malka's husband was born in 1.12.1895 and died in 13.2.1980. He is buried in the Haifa cemetery. His wife Malka née Hecht died and is buried in Haifa (in the photo Yacov and Karolina Hecht, and Malka and Moshe Blum are standing near their home in the village). Their children Menakem and Eliyahu came to Israel with their parents in 1933. Both died recently, Eliyahu in 2002 and Menakem in 2004.
Max Ben-Aaron Hecht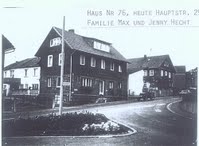 Max Hecht, son of Aaron and Karolina, uncle to Grandfather Sally (Samuel) who was born in 5.9.1874 and died in Auschwitz in 1943. He fought in the First World War. Max Hecht was a clothes and fabrics merchant, in partnership with his father Aaron (see photo of the shop).
Max married Jenny (née Goldschmidt, born 31.3.1880) who died in 25.3.1925. The village children called him the "upper Hecht?" (Obern hecht). The family lived in the village main street, in house number 29 (in the past house number 76 where Manasses Hecht lived). The family was friends with the grimmer family who also lived in the village.
Max Hecht's Children:
1. Justin was born in 7.7.1904, married Siddi (née Lehmeir, born 7.7.1905). Their daughter was named Inge (born 1927) and another daughter who married Lothar Arnoldi. Yustin's grandchild is Michael.
2. Rudolf (Ralf) (born 23.1.1911) married Herta Mendel, from the city Trier. Ralf Hecht and his brother immigrated to the US in 1936.
Justin and Rudolf (Ralph) brought their father to the Home for the Aged in Munchen. From there he was taken to Auschwitz.

Ralf (Rudolf) Hecht corresponded with Mrs. Kappner. In a letter bearing the date 3.11.1988 was written (among other things) that he visited the village with his wife in 1971, but due to his advanced age (77 years old) at the time the letter was written, he couldn't return for another visit. Ralf died in New York in 8.10.1998. His wife Herta died in 12.8.1998.
Herta and Ralf Hecht's only son is Allan Theo, born in the US in 20.6.1940. His godmother was his aunt, Rika Freudenberger (née Hecht, daughter of Aaron).
Allan Hecht married Sheri Rosenberg (born 9.2.1942) in 1965.
Their three children:
1. Michel Sandy (born 17.4.1966) married Andrew Targovnik (born in 27.3.1964) in 1.10.1944.
Their two daughters:
1.1 Amanda Beth, born 21.12.1991
1.2 Casey Meredith, born 2.12.1955
2. Robert Dean (born 18.8.1968), married Elisa Wendy David (born 14.4.1969) in 18.8.1996.
Their two daughters:
2.1 Jenna Gabriel (born 11.3.1996)
2.2 Carly Sabrina (born 15.4.1998)
3. Gayle Keren (born 13.8.1970) married Bruce Ira Lander (born 2.5.1970) in 18.8.1996.
Their three children:
3.1 Brian Ross (born 26.3.1999)
3.2 Jessica Sarah (born 18.8.1996)
3.3 Rachel Brooke (born 14.5.2003).
Alan and Hecht's Family (2005)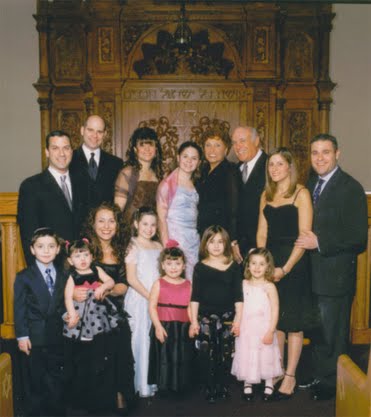 Front row:
Brian Lander age 6
Rachel Lander 2,
Gayle Hecht Lander age 36,
Casey Targovnik 9,
Jessica Lander 4,
Jenna Hecht 6,
Carly Hecht 4,
Back Row:
Bruce Lander 38, (Gayle's husband)
Andrew Targovnik 41, (Michelle's Husband)
Michele Hecht Targovnik 39
Amanda Targovnik 13
Sheri Rosenberg Hecht 60, (Alan's wife)
Alan Hecht 65
Elisa Davis Hecht 36 (Robert's wife)
Robert Hecht (son)