Family size: Infants (and mothers) death during birth. Death at an early age. Large families. On the other hand, tendency towards longevity. Marriage to local residents of the region. No mixed marriages.
Large families: Itzik and Rikel Anschel had four children. His son Manasses and his wife Eva had six children out of which only two survived. With time the number of children per family decreased. Yacov and Karolina Hecht (who is buried in Haifa) had only three children. The sister of great grandfather Hecht, Malka and her husband Moshe Blum had two children.
Death at an early age: Yitzhak Hecht, Manasses and Eva Hecht eldest son (1829-1840) died at a very young age (11 years old). Four out of the six children of Michael Hecht died at an early age: Rica (born 1864) when she was 1 year old, Herman (1865-1869) when he was 4 years old, Max (born 1869) when he was 1 year old, and Betty (born 1869) when she was one year old. Michael Hecht's first wife, Mina (nee Friedman, 1829-1864) dies at the young age of 35.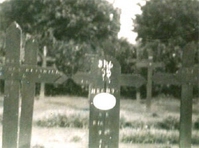 Mina (1878-1901), daughter of Karolina and Aaron, died at the age of 23. Max Hecht 1898-28.4.1918) fought and fell in the First World War at the age of 22.
He was buried in the military cemetery situated on the border between France and Germany (see photo). Miriam (1932-1950), fifth generation descendant of the Hecht family, died at the age of 18 and is buried in the 'Har Ha'zeitim cemetery in Jerusalem.
Longevity: Several of the Hecht family members were blessed with long life. Anschel Hecht died at the age of 81, whereas Manasses Hecht reached the age of 82. Eva Hecht (nee Friedman), Manasses wife, who had eight children, died at the age of 89.Esther Hecht has surpassed them all and died at a very distinguished age of 92.
Rudolf (Ralph) Hecht died in NY in the year 1998 at the age of 87.
Family activities and occupations: In the early years, the Hecht family's main means of support were
trade in textile and in livestock. The Hecht family "founding member" Itzik Anschel was a farmer, and the owner of a clothes shop in the village. His grandson Yacov and his great grandson (Max) have followed in his footsteps. Their shop offered fabrics for shirts (see the advertisement from 16.5.1917). In another advertisement (23.12.1917) Yacov Hecht is looking for "pear peels". Yael Pedro (nee Hecht), sixth generation descendant of the Hecht family has recently chosen to return to her family's traditional field of expertise and became a fashion designer.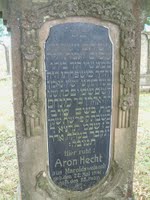 Klei Kodesh (the ritual objects necessary to Jewish observance).
Aaron Hecht was said to be a "Shofar blower" and Shaliach Tsibur, S"z), the represent of the prayers, in the name of G-d". In other words, he received no payment for his holy work and did it "for the sake of Heaven" (le shem sha-mayim). (See inscription on the headstone in photo).
Livestock traders: Sara (born 1878), Great grandfather Yacov's third sister married Louis Strauss, a butcher and a fur merchant. Her sister Babetta married Yitzhak Sichel, a fur merchant.
Instructors: Rita (born 1874), sister to great grandfather Yacov, married Sendel Freudenberger, a primary school instructor. Samuel Hecht and Menakem Blum were also instructors.
The Holocaust: The cousin of Father Max, son of Aaron Hecht, cousin to Father Samuel, was taken in 1943
from the old people's home in Munchen to Auschwitz. Yitzhak Sichel (born 1876) husband to Babetta, sister of great grandfather Yacov perished in Tereizinstadt in 1944. The Grandmother and Grandfather of Esther from Mainz were sent to the incinerators in Transport Number Es-135, which left for Auschwitz in 19.10.1944.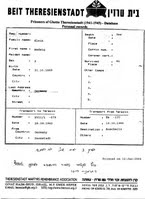 Yitzhak Sichel, husband to Babetta, daughter of Aaron Hecht was exterminated in Tereizinstadt (4.6.1944), whereas his wife, Babetta survived the Holocaust and was freed from Tereizinstadt (this information is based on a list of prisoners in the Tereizinstadt camp, contained in the Theresien memorial book, Theresien initiative, volume 1-2 Prague 1995).
After the Jewish Teachers College in Wurzburg (IBLA) (where grandfather Samuel Hecht had studied) was closed down in 1938, the building was converted to a transit camp for Jews, the old and the sick. Six deportations transported the Jews to the death camps: The first one to Riga (in 27.11.1941) with Anni Freudenberger, sister in law of Rika Freudenberger (nee Hecht) on board. The second transport in 23.3.1942, and the third in 25.4.1942 to Lubin (Izbica). The destination of the fourth (10.9.1942) and fifth (9.11.1872) was Tereizinstadt.
Karl Hecht (born 9.11.1872), son of Michael was among those who were sent in the fifth deportation. He was exterminated in Tereizinstadt in 12.11.1943. The sixth and last deportation left for Auschwitz in 17.8.1943.
The Klein family from Mainz was deported during the Nazi regime to the city Darmstadt. From there the family was sent in "transport number XVII/I 578" in 28.9.1942 to the Tereizinstadt concentration camp in Czechoslovakia. In 19.10.1944 the Klein family was sent in Transport number Es 134 to Auschwitz and was exterminated there near the end of the war.